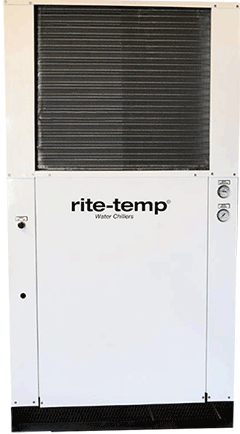 An Eco-Friendly Solution
It was 1948 when Ernest Godfrey designed and developed the first rite-temp water chiller for a small dry cleaning plant in Rogers, Arkansas. Ever since that first chiller was introduced rite-temp has shared a close connection with the dry cleaning industry.
Dry cleaning equipment needs chilled water to function properly. This was usually done by drawing tap water and then depositing the used water back in in the sewer system with chemical solvents in the creating a strain on resources and was very costly in monthly water and sewer rates. Most have banned this type of cooling practice and now rely on chillers to provide a closed loop of re-circulated water to cool their dry cleaning machines. Wastewater from this dry cleaning facility must now be stored and handled within regulations instituted by the federal government.
With wash loads can average to about 500 pounds per load, a superior dry-cleaning water chiller is needed to to produce an economical solution while remaining eco-friendly.
Rite-temp has been a leader in meeting the ever changing needs of the industry for the past six decades. We look forward to what changes are in the future and plan to help drycleaners meet them head on.